This week, we have announced a new integrated touchpad that offers a best in class haptic application while delivering significant cost and space savings compared to competitor's products.
Cost-optimised, slimmer haptic solution
By increasing integration in the mechanics stack and electronic design, we have managed to significantly reduce the cost of our market leading solution. This enables manufacturers to bring the benefits of haptic touch technology to a much wider range of laptops and other devices.
Additionally, we have created an integrated solution that combines touch sensors, haptic sensors and electronics in one ultra-slim stack that is almost 40 percent thinner than our previous model. This will offer customers additional design opportunities, such as slimmer and lighter devices or an increased battery size, without compromising aesthetics.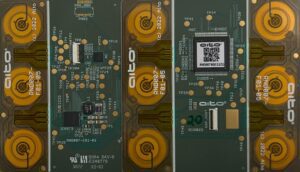 No compromise to user experience
Despite these developments, there is no compromise in functionality or user experience. Customers can deploy advanced functionality, including "multi-level press", "spring effect", "slider", and "scroll haptic", which create unique user sensations, such as writing on an array of surfaces, virtual volume controls, and zoom-in/out, with localised haptic feedback.
Our new touchpad solution is fully customisable and has localised haptic feedback paired with advanced palm detection capabilities. Users will be able to feel the haptics only where they want, as opposed to across the entire surface area of the touchpad. Users can also configure the size and location of the touchpad as well as use different areas for individual actions, such as gaming or functions controls (such as adjusting volume). 
To partner with us to create new and engaging haptic touch solutions, contact us on email: info@aito-touch.com.